Arthur - Newgraden Knight Of Templar to Newfarrier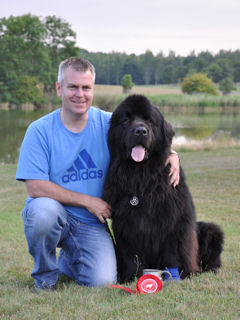 Stewart and Amanda have worked hard with Arthur and he has developed really well as a water dog, passing Section A tests with ease. He had a few attempts at Section B and slipped up on just the 'safe swim' but he cracked it at Grangewaters in August 2011 and got his B pass. We are now looking forward to him progressing with the higher levels.
The highlight of Arthur's water work achievements so far is his excellent win (against 37 other competing dogs from all over the UK!) of the Beginners Water Trials at Ragley on 30 July 2011.
Gallery
Click on the larger image to view the next image or click the magnify icon in the top centre to expand it. The navigation arrows in the thumbnail strip below allow horizontal scrolling.
Achievements
Winner of the Beginners Water Trials at Ragley in July 2011
Passed Section A Tests twice at Grangewaters and then Section B, also at Grangewaters in August 2011